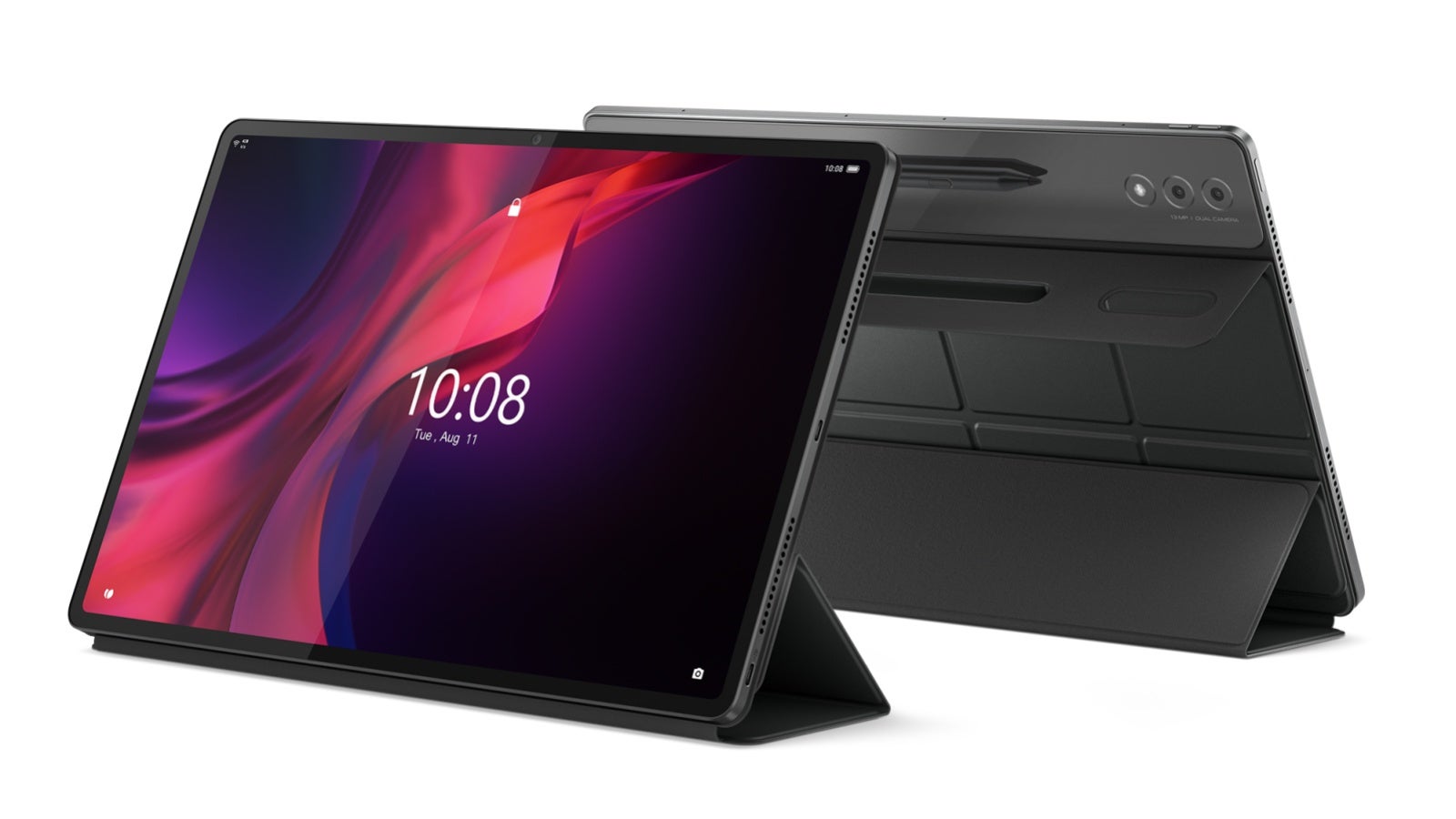 The gargantuan 14.5-inch Lenovo Tab Extreme was vaguely and unencouragingly scheduled for a commercial debut "late" this year, but surprise, surprise, the company's top iPad Pro rival is now available in the US in "limited stock."
Much more affordable than expected but not for long
What's even better is that Lenovo has evidently decided to revise this bad boy's initially announced starting price of $1,199.99, listing it instead on its official website at $1,099.99 and seemingly running an introductory offer of some sort saving you an additional $99.99 with no questions asked.
On top of that, you can also enter the "SAVE10TABLETS" e-coupon code at checkout and shave another hundred bucks off the "regular" price of this 14.5-inch Android monster, knocking it down to $900 without you having to trade anything in or jump through hoops of any (other) type.
With 256 gigs of internal storage space and a 12GB RAM count, the discounted Lenovo Tab Extreme manages to undercut Apple's newest 12.9-inch iPad Pro edition in an entry-level 128GB configuration, as well as Samsung's most affordable Galaxy Tab S8 Ultra model (with 128 gigs of local digital hoarding room and just 8 gigs of memory).
Like the S Pen-wielding Tab S8 Ultra (and Tab S8, and Tab S8+), the Tab Extreme includes a stylus (or Lenovo Precision Pen 3) in the box as standard. Unlike pretty much all of its competitors, however, this latest contender for the title of best Android tablet also comes with a keyboard
and
a charger bundled in at no extra cost.
We're not talking about just
any
keyboard and charger either, mind you, as the Lenovo Tab Extreme Keyboard rocks an "innovative" modular design that allows the tablet to "float" and better emulate the posture and productivity of a traditional laptop, while the 68W charging adapter is completely out of the Tab S8 Ultra's realm of support.
An extremely impressive spec sheet and design
Handy accessories aside, you're obviously looking at a pretty heavy but also incredibly thin piece of machinery here with a huge 12,300mAh battery under the hood promising to deliver up to a remarkable 12 hours of video streaming between (blazing fast) charges.
Speaking of streaming, the 14.5-inch OLED display is unsurprisingly as beautiful as it is large, sporting a resolution of 3000 x 1876 pixels and supporting state-of-the-art Dolby Vision and HDR10+ technologies to join forces with no less than eight JBL speakers and Dolby Atmos audio capabilities for what sure sounds like a flawless content playing experience on the move.
Apart from lacking a good old fashioned headphone jack, it's virtually impossible to find something wrong with the extremely versatile and decidedly feature-packed Lenovo Tab Extreme, at least on paper, considering that you also get a microSD card slot for external storage expansion here, as well as a 13MP front-facing shooter, dual 13 + 5MP rear-facing camera system, and of course, a super-premium construction combining aluminum and glass for an eye-catching dual-tone design.
Guaranteed to receive Android 14, 15,
and
16 updates down the line, as well as four years' "worth" of security patches, the Android 13-running powerhouse also packs a MediaTek Dimensity 9000 processor that's slightly faster (at least in theory) compared to the Qualcomm Snapdragon 8 Gen 1 found inside the Galaxy Tab S8 family.
Granted, this can't hold a candle to the Apple M2 chip under the hood of the latest iPad Pros and Samsung's more powerful Galaxy Tab S9 roster is probably right around the corner as well. But that still doesn't completely negate what looks like an excellent value proposition… at $900… for a very limited time.
creditSource link